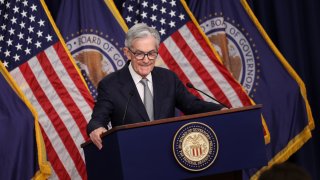 This report is from today's CNBC Daily Open, our new, international markets newsletter. CNBC Daily Open brings investors up to speed on everything they need to know, no matter where they are. Like what you see? You can subscribe here.
What you need to know today
Rates unchanged, again
The Federal Reserve kept interest rates unchanged, holding the key federal funds rate in a target range between 5.25% to 5.5%. But Chair Jerome Powell emphasized "the process of getting inflation sustainably down to 2% has a long way to go." To that end, Powell said the central bank is keeping its decision for its December meeting open, and isn't even thinking about rate cuts at all.
Markets cheered decision
U.S. markets rallied Wednesday as investors digested — and cheered — the Fed's decision to hold rates steady. Europe's Stoxx 600 index added 0.67%. Stock movements of note: U.K. clothing and homeware group Next popped 3.6% after the firm hiked its profit outlook, while Aston Martin plunged 8.9% on a bigger-than-expected quarterly loss.
Bond relief
The U.S. Treasury Department will auction next week $112 billion in debt in three parts: $48 billion in 3-year notes, $40 billion in 10-year notes and $24 billion in 30-year bonds. Thereafter, the department said it'll focus more on coupon-bearing notes and bonds. Investors are watching the auction closely because it could affect the trajectory of bond yields — already at multiyear highs recently.
Cooling jobs market
Private sector payrolls rose 113,000 in October, according to payrolls processing firm ADP. That's higher than September's 89,000, but lower than the expected 130,000. Wages increased 5.7% from a year ago, the smallest annual gain since October 2021. "Big post-pandemic pay increases seem to be behind us," said ADP's chief economist, Nela Richardson.
[PRO] Steer away
Investors who poured money into legacy automakers like Ford and GM as a cheaper alternative to Tesla are finally 'waking up' to the idea that it wasn't the best course of action, said Morgan Stanley's Adam Jonas. Here's what else the top auto analyst has to say about playing the electric vehicle game today.
The bottom line
In the span of a year, the Federal Reserve has turned, for stock markets, from a harbinger of doom to a beacon of hope.
Take, for instance, how markets plunged in reaction to the Fed meeting in November last year.
Yesterday, however, markets rallied after the Fed concluded its meeting. The S&P 500 advanced 1.05%, closing above the 4,200 level for the first time since Oct. 24. The Dow Jones Industrial Average gained 0.67% and the Nasdaq Composite climbed 1.64%, boosted by technology stocks like AMD and Nvidia, for its best day since Aug. 29.
Of course, the material facts between the two Fed meetings were markedly different. The Fed, as expected, left interest rates unchanged this time, compared with a 75-basis-point hike last year.
But the circumstances surrounding the Fed's decision are different too. Recession fears gripped investors last year. Today, the Fed's upgrading its assessment of the U.S. economy, stating that "economic activity expanded at a strong pace in the third quarter." (By contrast, in its September statement, the Fed said the economy had expanded at a "solid pace.")
And yet, amid that "strong pace" — a 4.9% annualized growth rate in the third quarter — are signs of moderating growth. Private payrolls increased less than expected while manufacturing activity in the U.S., according to data from the Institute for Supply Management, contracted more than forecast.
Viewed with the 3.7% core inflation in September, it's no surprise stocks rallied: Investors are hoping for the fabled soft landing of quashed inflation without a recession.
That's not to say Powell dispensed with hawkish rhetoric completely. He still warned that inflation's beyond the 2% mark the Fed is targeting; that the Fed is leaving its decision for December open; that rate cuts are not on the table at all.
But when viewed against the events a year ago, it's undeniable much progress has been made on multiple fronts. Even as investors are absorbed in the day-to-day gyrations of the market, it's a reminder that, in the long run, things do pick up.
Copyright CNBC