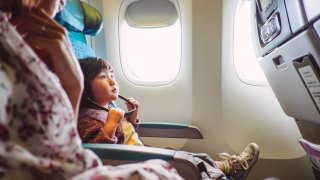 Airlines from Asia dominated a new family-friendly airlines list compiled by travel website The Family Vacation Guide. 
Eight of the top 11 airlines are based in Asia. Thirty-four airlines were reviewed.
The ranking was based on eight factors — including seat comfort, free seat selection and pre-boarding for families — for a total of 18 possible points.
Japan Airlines scored the highest on the list, earning a total score of 15 out of 18 points. It lost one point for charging extra for infants riding on laps, so-called "lap fees."
Korean Air and China's Hainan Airlines tied for second place, with both scoring 14 out of 18. Neither airline provides free seat selection, and both charge infant lap fees. 
Singapore Airlines, which ranked first in the Skytrax World Airline Awards for the fifth time this year, tied with Qantas and China Southern Airlines for fourth place. The airline lost points for seat comfort and infant lap fees.
All of the top 11 airlines provide kids' meals and free kids' entertainment, and allow strollers to be checked for free. With the exception of Lufthansa, all have on-board bassinets, and all but one — Hawaiian Airlines — have free checked baggage. Yet lap fees are common: all airlines charged them but for Hawaiian Airlines and Lufthansa.
The Family Vacation Guide Rankings analyzed publicly available information, as of February 2023.
Asia — big on family
Praowpan Tansitpong, an assistant professor at Nida Business School, attributed the dominance of Asian airlines on the family-friendly list to a difference in business priorities. 
"In the past 20 years, Asian airlines spent more money on improving the amenities to attract passengers than the western airlines," she said, adding that the latter focused more on revenue management.
She added that a difference in culture may affect airline service.
"Based on cultural orientation, Asian nations are strongly family-oriented," Tansitpong said. "People living in these Asian countries have strong links to and pride in their families and groups."
"In contrast to Western society, Asians value intimate family ties, mutual aid and respect for elders," she added. 
Most family-friendly airports in the world
The Family Vacation Guide also conducted a family-friendly analysis for airports, comparing on-time departure and cancellation percentages, the availability of free unlimited Wi-Fi, and the number of places to eat and activities to do. The results produced this list:
1. Mexico City Juarez International — Mexico
2. John F. Kennedy International Airport — U.S.
3. O'Hare International Airport — U.S.
4. Philadelphia International Airport — U.S.
5. Minneapolis-St. Paul International Airport — U.S.
6. Frankfurt am Main International Airport — Germany
7. Toronto Pearson International Airport — Canada
8. Soekarno-Hatta International Airport — Indonesia
9. El Dorado International Airport — Colombia
10. Singapore Changi Airport — Singapore
10. Fukuoka Airport — Japan
Mexico City Juarez International and New York's John F. Kennedy International Airport tied for first place, with both scoring 9.87 out of 10.
Conversely, South Korea's Gimpo International Airport was deemed the least family-friendly airport on the list, because of a lack of entertainment, restaurants and free Wi-Fi. 
In contrast to the airlines list, there were only two Asian airports on the top 11 family-friendly airports list. Singapore Changi Airport and Japan's Fukuoka Airport tied for 10th place, with both scoring an overall score of 8.68 out of 10. 
Changi Airport, named the "world's best airport" for a record 12th time at Skytrax World Airport Awards this year, has 214 places to eat, and 204 things for passengers to do. It also had the lowest cancellation rate of 0.4%. The one issue? No free unlimited Wi-Fi. 
Tansitpong said the discrepancy in performance between Asian airports and airlines on the lists may be the result of airports and airlines having different goals in planning and execution. Airports are more focused on aircraft and safety of the ground services than on family-focused services, she said.
However, Tansitpong said the research doesn't truly reflect the airports' ability to meet the needs of family travelers, through facilities like playground and play areas, family restrooms and children's menus in restaurants.
Copyright CNBC